Following Government Suppression, Sierra Leone's 'People's Popstar' Is Finally Allowed to Perform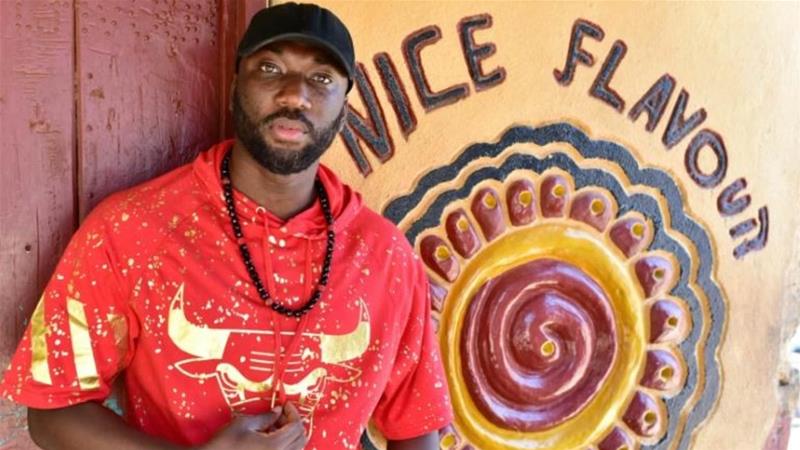 Early December 2017, a flyer was circulating on Whatsapp in Freetown announcing one of the most exciting concerts of the year. Sierra Leonean superstar Emmerson Bockarie, stage name Emmerson, was going to perform live alongside two other popular artists. The concert was to be held at the National Stadium, Freetown's foremost and largest concert venue where the likes of Timaya and Wizkid have performed in the past.
One week later, with no further explanation, the concert was cancelled.
Rumours went wild. The then ruling party, All People's Congress (APC), was seen by many as the culprit. Elections were just around the corner and Emmerson, with government-critiquing lyrics, was not to perform to an audience that could reach 36,000 people. It was a recurring story; Emmerson has not been able to perform at the National Stadium since 2012, all during the APC reign.
Now, a month after the change of government, Emmerson held his concert, called Finally, on the April 28.
What happened? How come a change of government can alter the fact whether an artist can perform at a public space?
Emmerson explains how his artistic growth has been hampered by the former government, and that he believes that with Finally, a first step in Sierra Leone's long road to recovery has been made.
The walking rats
Why is Emmerson feared by politicians in the first place? Well, he's known as a powerful critical voice, and popular at that. With hits like "Borbor Bele" ("Boy's Belly"), where he points out the 'rotten' round stomachs of corrupt government officials, and "Two-Foot Arata," referring to those same politicians as walking rats, he became the representation of the country's discontent with the current state of the nation. His songs became hits not just because of their lyrics, but also because they're dressed in a poppy afrobeat jacket, with some pure local sounds fused into the beats.
Emmerson explains his lyrics as a form of nationalism. "I preach for the quality of life of every Sierra Leonean, for them to have equal rights, and that the resources are being shared evenly among the districts. If the government fails to do these things, then I will comment on that."
Music wahala
In a country with high rates of illiteracy, low internet penetration and little access to television, radio and music are often the most accessible sources of information for the everyday Sierra Leonean. During the former elections in 2007, Emmerson's music caused a rupture in the political landscape of the country.
"Many youth were waiting for my direction. They said they were confused by the promises of the politicians. Most youth don't judge for themselves, and I advised them. Open your mind, see the pros and cons." And that's what they did. Youth started following politics, massively turned up to vote and the result was a change of government.
Many said it was because of Emmerson's music that the SLPP lost the elections to APC.
The change of government was a moment of hope for change, but it soon turned out that the campaign promises were not met. Emmerson's new releases continued critiquing the government, and because his last concert at the National Stadium in 2012 had such a high attendance, those same government officials started working against him.
"There were so many difficulties. Let's say that 90% of the people that I tried getting into business with pulled out because of the influence of powerful people who hated my message. They thought that if you do business with me, you agree with me. It scared people, even corporate houses. It was almost impossible to get sponsorship or support."
After a while he stopped approaching people and focused on his music. It wasn't easy. He couldn't launch his albums at the National Stadium, and most radio stations would not play his music due to 'instructions.' "Every time we tried to book the venue, the stadium manager would come up with an excuse. 'It's above me…. my boss is saying… we are having renovations,' whilst that same week an artist like Tekno or Wizkid was able to perform with no issues."
The APC lost this years' elections to SLPP. The exact same party that lost the elections back in 2007. One month later, Emmerson finally performed at the statdium, an important event considering the position he was in for the past decade. It's a move away from censorship, from politicians mingling with artistic expression.
"In the change of government we saw a light and went right into it. We thought, this is the perfect time to do our concert. This does not mean that we are in any way supportive of SLPP, we will make sure to keep them on their toes, we do not support any party."
Our eyes are open
Far less people came to the concert than was expected, but Emmerson does not believe the rumours that it was sabotaged by the APC. "The new president made a good point. We have no reasons to celebrate, we have a lot of work to do. I believe this affected the mood in the entire country."
Emmerson's focus is to work towards a united Sierra Leone, and he believes that artists have a responsibility in this task. "The country is divided politically. There are many people who are still disappointed with the outcome of the elections. As musicians we need to tap into that space of what is happening in the minds of people, let's take inspiration from that."
He believes that the outcome of the elections is a reset. "I met young kids on the streets, they say wi yai dae opin, meaning 'our eyes are open'. I can't ensure you that things will be better, but I hope that the new government understands the plight of the people, and will help to construct a conducive atmosphere for creatives of any sort."
Creatives that can critique the government without fearing professional sabotage and who can address the issues the country is facing with alternative voices. The first step has been made, Emmerson performed his commentary in a public space. Finally, we are moving forward.
Published by OkayAfrica: https://www.okayafrica.com/sierra-leone-emmerson-music-stadium-concert/